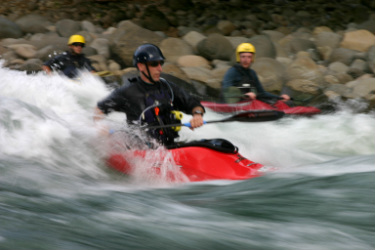 Surfing a Sarapiqui River Wave in Costa Rica
While born in Chicago, I did not stay there long. As chance would have it, I found myself growing up in several unique areas of the country. You see, during my early years, my father's occupation required several relocations. 
From Illinois, my first move came when I was just 4 years old. That is a faint memory now. But I still remember the journey, my first time in an airplane. The destination was Tampa Bay, Florida. And after just a few years there, at 7 years of age I moved again…to Houston, Texas. This time it was a long drive in the car. I stayed in Texas, which also included homes in Beaumont and Tyler, until passing my 15th birthday. At that time, my dad needed to pick up stakes again. We landed in the area around Philadelphia, Pennsylvania. This is where I called home during high school and until finishing my college studies at Penn State. 
Each move brought with it a chance to start over with new friends and different situations. It was not clear at the time that these experiences were destined inspire my copywriting.
And after leaving the family nest, I started my  career as an electrical engineer in the defense industry near Baltimore, Maryland. This was hands automated test support for military products. It required both hardware and software design skills.
This provided me with a chance to apply the technical training from my education to "real-world" problems. I also gained an insight into the needs of the test engineering community. A perspective that now helps me effectively communicate through persuasive writing with prospective home automation clients and customers.
But after enduring several long, cold, and snowy winters and short, stormy summers near Maryland's Chesapeake Bay, I was ready for a change – a new beginning. Yep, it was in the blood, after all those childhood moves, it felt like it was again time to relocate. So I decided to go west.
All the way to Southern California…
This was an easy transition to make. You see, this was the mid-80s and it did not take long to find several engineering opportunities that could use the skills I had developed in Maryland. And the company selected picked up the tab to move all my worldly possessions.
So while settling in to continue my career in aerospace test and automation in this new environment, I discovered endless off work time distractions to balance things out. The outdoors here was a boundless playground.
Ahhh, the endless summers, the beaches, mountains, desert…and all the fun activities to go with it! I had found my home at last. This is still where I call home today.
Over the years, I had the good fortune discover a few activities that have turned into magnificent obsessions. Things that I enjoy doing both alone and with the many great friends developed over the years. Friends with shared pastimes. Among these things, my current interests include whitewater and ocean kayaking and stand-up paddle boarding…
Paddle boarding…wow!…now that is fun! And what an ab workout! Oh, did I mention hiking and in-line skating? Hmmm, so many choices, so little time, there is never a lack of something to pursue.
I also practice yoga almost every day at a local studio. This is an absolutely essential ingredient to help maintain my balance and focus with both business and pleasure pursuits. This mind, body, and soul transformation continues…
Copywriting
Why am I now writing copy? Well, you see, my engineering career has provided a level of personal satisfaction, to develop an idea into a working, functional product. And it has been financially rewarding. But it has failed to provide the feeling of having made a difference in the world. Doing something that really matters.
So I started looking…
Almost immediately, one thing became clear. It was obvious that there were many successful online businesses. I began asking questions; What were all these people doing? How could I join in? How can I get started?
This is when I discovered copywriting. And the American Writers and Artists Inc. (AWAI).
Everything made sense. Here was a chance to identify problems and develop solutions that really do make a difference.
To make an impact.
So the journey began…
Using all the resources available through the AWAI, I have learned the art of copywriting from the best in the business today. This has provided me with a solid foundation to write high impact and compelling copy.
My world class training in the art of persuasive marketing, coupled with my unique life-long experiences are available now to help solve your promotional challenges. To drive up your sales and increase revenues…
Contact me today to explore how to best help your business grow.